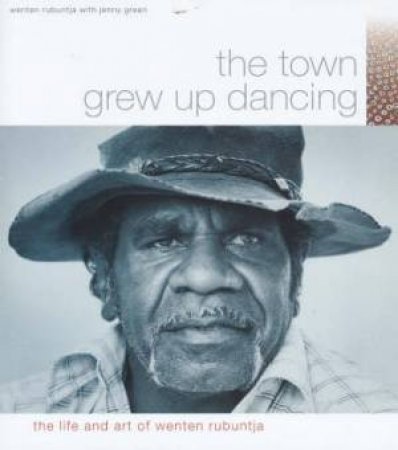 Indigenous readers please be aware that this page contains the names of deceased persons.
The Town Grew Up Dancing, the life and art of Wenten Rubuntja is a fascinating book, not least because it is a trilingual text. Wenten Rubuntja (c. 1923 – 2005) was a well known artist and a key figure in the Central Australian Land Rights Movement in the 1970s. This book is his story, told in his mother tongue, Arrernte, and also in Aboriginal English, with accompanying translations. Including the texts in Arrernte and Aboriginal English rather than just the English translation is an important signal about this book: it respects the original texts as equal in status to English. It also affirms strongly that the genesis of this book is in oral narratives, reminding the reader that for more than 40,000 years, it was the oral tradition that was used to pass on stories. But that's not all that's special about this book…
Indeed, the book's provenance is a story in itself: it reveals a different way of thinking about authorship and autobiography. The book began in 1998 when Rubuntja asked for help to record his life story, and received a grant from the Australian Institute for Aboriginal and Torres Strait Islander Studies (AIATSIS) to help with the research. The text came together from taped interviews with Rubuntja between 1975 and 2001, mostly recorded by linguist and artist Dr Jenny Green, but also by teams of other interviewers. Jenny Green also contributes additional commentary and so does historian Tim Rowse. (Dr Green won the 2011 Chancellor's Award for Excellence in a PhD Thesis for her work on telling Australian sand stories, there's a lovely photo at this link).
The stories of Wenton's sister Ruby Rubuntja were recorded too, and so were those of other people who knew and worked with him. These interviews were circumscribed by traditional Aboriginal practice: permission had to be granted to use Ruby's contribution after her death, and Arrernte cultural practices have been respected by limiting questions only to matters considered public. So the book does not include anything to do with traditional Aboriginal law, or men's and women's restricted 'business or ceremonies. (p. viii)
Though all authorised biographers respect the wishes of their living subjects and may have to negotiate 'no-go' areas, this community-based autobiography combined with cultural prohibitions is, I suspect, quite a different approach to the usual practice of autobiography … It gives the book an authority that derives from thousands of years of a living culture even though it is using all the modern accoutrements of publishing. There are also occasions when the commentary acknowledges that accounts of the same event are not necessarily the same. IMO this actually reinforces the authenticity of the book, because everybody knows that people often remember the same event differently! I found this distinctive approach very refreshing, but it also made me wonder how different the book might have been had it not been published while Rubuntja was still alive.
I haven't finished reading the book, but I wanted to share my thoughts about it now because NAIDOC Week kicks off tomorrow but I will be spending most of the day in transit to Queensland. (It's my usual term holidays trip up to see that all is well with my elderly parents.) The Town Grew Up Dancing is a book that's ideal to kick off my reviews for Indigenous Literature Week 2014, so I've scheduled this review to coincide with that. It is a biography of a very significant indigenous man but it's also a beautiful book of beautiful art!
Wenten Rubuntja is one of the artists mentioned in McCulloch's Contemporary Aboriginal Art: The Complete Guide, an indispensable companion if you are interested in Australia's most internationally known art form. Rubuntja features in the section on Central Australian art but also in the section on Arrernte watercolours and the legacy of Albert Namatjira, because Rubuntja paints both in watercolours and acrylics in the Papunya style. The Town Grew Up Dancing is generously illustrated with full-colour reproductions of Rubuntja's art in both styles as well as photos , drawings and posters. I prefer the Dreaming pictures, because they accompany anecdotes of childhood and desert life – and I just love the colours. (This is a good opportunity for me to show you the one-and-only painting that I own by an indigenous artist – it's by Linda Williams of the Brabralung people of the Kurnai tribe, East Gippsland. Isn't it gorgeous?)
I found it very interesting to read the chapter called Army Time because I've been working on a unit about indigenous war service for my year 5 & 6 students. The impression I had from the resources supplied by the Shrine of Remembrance and the Australian War Memorial was that Aborigines were keen to enlist, even though they were subject to insulting, racist restrictions which prohibited them from doing so in WW1 and only allowed to join up in WW2 if they had a European parent. But this chapter makes it clear that some of them were 'shanghaied' into working as labourers in Ww2 and paid a pittance for doing it. I need to find out more about this: fortunately the book has extensive references so I may be able to give my students a more truthful picture of these events in due course.
This is the real value of this book: without self-pity it reveals the extent of everyday discrimination that was routine in Rubantja's young life. From being excluded from visiting the town of Alice Springs to his itinerant work history, Wenten could very easily have drifted into a life without purpose, but he took opportunities whenever they arose. He learned to paint by watching Albert Namatjira, integrating western art with indigenous concepts especially in terms of land rights.
To give just one example that explains the complexity of Aboriginal Dreaming paintings, there is one called Ayeparenya (caterpillar) Dreaming, painted in 1986 and presented to Pope John Paul II when he visited Alice Springs in 1986. Three large concentric circles represent Heavitree Gap, Emily Gap and Simpson's Gap, linked together by tracks and trails and other circles representing other places. These circles are the song – everyone has some sort of song which was created in the country they belong to – and there are countless black dots representing men and women dancing. So this painting shows that everyone has their traditional place.
Rubantja's role as an activist for Land Rights drew on many skills – as a mediator between different Aboriginal groups, as a diplomat, and as an indefatigable leader. I wish I could show you the poster entitled Two Laws Together from 1990 which depicts an Aboriginal man straddling two paintings: one in the Namatjira style with a landscape of mountain and trees, and the other a caterpillar dreaming story of the same place. This poster is symbolic of Rubantja's understanding that reconciliation meant both cultures respecting each other.
It's a wonderful book.
Wenten Rubuntja (c.1923-2005) was an Arrernte man from Central Australia
Author: Wenten Rubuntja, with Dr Jenny Green
Title: The Town Grew Up Dancing, the life and art of Wenten Rubuntja
Publisher: Jukurrpa Books, an imprint of IAD Press, 2002
ISBN: 9781864650426
Review copy courtesy of Dennis Jones and Associates
Availability
Fishpond: The Town Grew up Dancing: The Life of Wenten Rubuntja