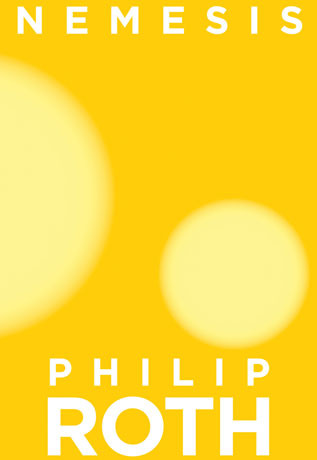 Now that I've caught up on my reviews for the books I read while I was away in Queensland, I'm ready to tell you about the first one I read when I got back: Nemesis, fourth in the sequence of Roth's late short novels, Everyman, Indignation, and The Humbling.  It's captivating reading, and because of a slight similarity in the setting, it reminds me also that I must soon read Joan London's new book The Golden Age.  Those of us who love London's writing have been waiting impatiently for a new novel, and yet it's been sitting on my shelves for over a month.  I must get my reading priorities in order!
That's not to say that I regret reading the Roth.  Nemesis is a human tragedy that was probably all too common in the years before the Salk and Sabine vaccines made polio obsolete in western nations.  This short novel of 280 pages shows the impact of a polio epidemic in Newark in the sweltering summer of 1944, when not even the cause of polio was known.  Bucky Cantor is an athletic young man unfit for war service like his friends because he has poor eyesight, inherited from his ne'er-do-well father who disappeared out of his childhood.  Cantor works as a playground supervisor (presumably similar to being a yard duty teacher in Australia, but in Nemesis it's a paid position available during the holidays).
As news emerges about polio cases in the area, Cantor worries about his charges.  He is devastated when one of them falls victim to the epidemic and dies.  At the same time, his lovely girlfriend invites him to apply for a position at a camp in the mountains, and while he believes his moral duty is to stay and keep things normal for the children, he succumbs to panic and opts for the safety of the mountains.  Keen to cement his relationship with this girl to whom he has impulsively proposed, he departs, feeling guilty about leaving his home, but also relieved about being out of the danger of infection.
Fate intervenes, and for Cantor it brings a crisis of faith and identity.  How, he asks himself, could a loving god inflict this pestilence on innocent children?
After all this time, it had suddenly occurred to Mr Cantor that God wasn't simply letting polio rampage through the Weequahic section but that twenty-three years back, God had also allowed his mother, only two years out of high school and younger than he was now, to die in childbirth. He'd never thought about her death that way before.  Previously, because of the loving care that he received from his grandparents, it had always seemed to him that losing his mother at birth was something that was meant to happen to him and that his grandparents' raising him was a natural consequence of her death.  So too was his father's being a gambler and a thief something that was meant to happen and that couldn't have been otherwise. But now that he was no longer a child he was capable of understanding that why things couldn't be otherwise was because of God.  If not for God, if not for the nature of God, they would be otherwise.  (p. 126)
Cantor never recovers his equanimity.  Towards the end of the book the narrator reveals himself as a surviving polio victim who went on to have a satisfying life.  But Cantor fails his own personal struggle against the disease, and never forgives himself for it.  It is heartbreaking.
Kevin from Canada reviewed it too.
Author: Philip Roth
Title: Nemesis
Publisher: Houghton Miffin Harcourt, 2010
ISBN: 9780547318356
Source: Kingston Library
Availability
Fishpond: Nemesis