The 2022 NT Literary Awards winners have been announced: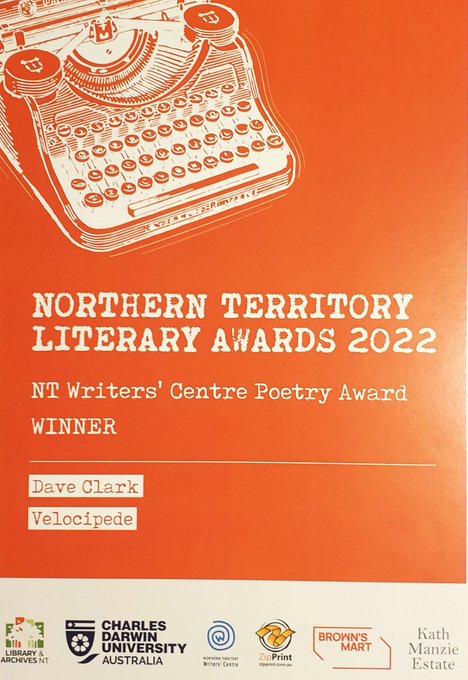 With thanks to @DaveClarkWriter (who won the poetry award) these are the shortlists, and the winner is in bold.
Brown's Mart Theatre
Steeplechase – Oliver Coulter
Under the Table – Sean Guy
The Holidaymakers – Michaela Vaughan
Charles Darwin University Creative Non-Fiction Award
Dysfunction and Beauty on its Sleeve – Dave Clark
A World on the Wane – Naish Gawen
An Aboriginal Healer lifted my PNG Curse – Annalise Ingram
Homage – Carol Maxwell
Charles Darwin University Essay Award
Towards A Set of Guidelines for the Indigenous Tutorial Assistance Scheme (ITAS): A Tutor's Perspective – Stephen W. Enciso
Rewriting Indigenous Women Stories – One story at a time – Botimi Russell
Unsettling heritage: Difficult histories in the Red Centre, 1884 – Ella Syme
Flash Fiction Award
An extra hour – NG
Earthquake – Julie U'Ren
Lollipops and Lazulites – Olivia Wall
Kath Manzie Youth Award 
In Those Churning Waters – Maya Purdon
Flight – Elisha Pettit
NT Writers' Centre Poetry Award
Velocipede – Dave Clark
SENSUIKAN I-124 – Ynes Sanz
For my sister on our holiday – Leni Shilton
FORGIVENESS – Dina Davis
Leaving Ikuntji – Meg Mooney
Passing Through the Gate – Janice Barr
Zip Print Short Story Award
Ghosts of the Circus – Sally Bothroyd
Bacha Posh – Dave Clark
Into the Storm – A'Mhara McKey
Where can you read the winners?
The NT Writers Centre * Library and Archives NT have produced a book titled Works by Winners and Finalists. Contact them here for more info.
You can also contact the Writers Centre for more info. Their shop also sells copies of their members' books and that is how I got my copy of Living With Hope by the late Frank Byrne which won the NT award in 2019.
*Update and correction, with thanks to Bill, see comments below.
---
I missed the announcement in July that Mark McKenna won the Chief Minister's Northern Territory History Book award for 'Return to Uluru'.  Janine at The Resident Judge of Port Phillip reviewed it here.
The following is from Library and Archives NT.
'Return to Uluru' brings to life a cold case: the 1934 shooting of Aboriginal man Yokunnnuna by Bill McKinnon, a white policeman. The book highlights the Commonwealth's inquiry into the case and the story of racial politics in the Northern Territory at the time.

Also, congratulations to Matt Garrick and Yothu Yindi co-founder Witiyana Marika who were highly commended for 'Writing in the Sand'. This book details the epic journey of Yolngu/balanda rock band Yothu Yindi and the movement generated from their ground-breaking song 'Treaty'.
---
Congratulations to all the authors, editors and publishers!