Yikes, you know you're getting old when you remember the photos in a book titled Old Vintage Melbourne!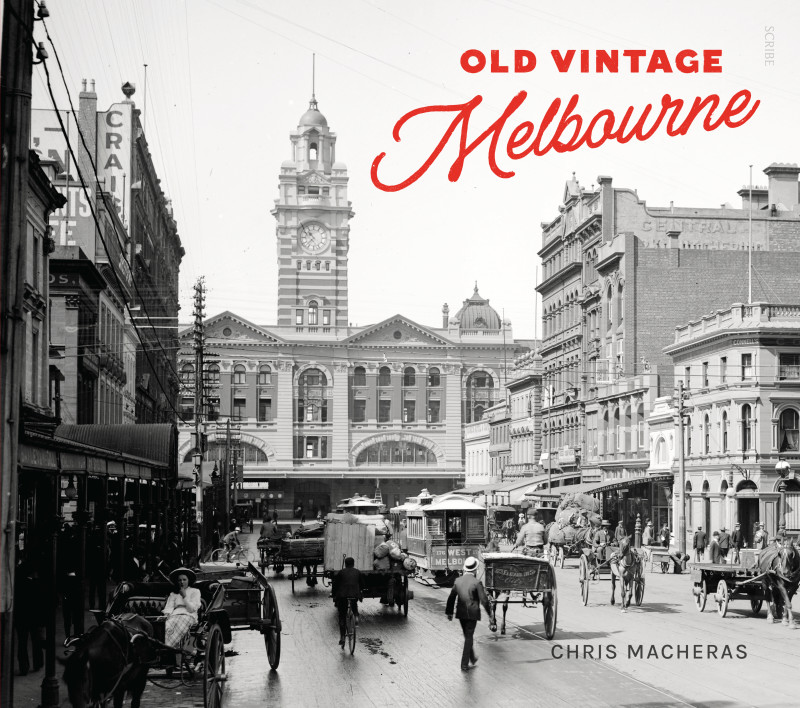 This book is the sequel to Old Vintage Melbourne (2021, Scribe Publishing, ISBN 9781922310941) which grew out of an Instagram account with the same name.  Its successor is my vintage, comprising full colour and B&W photos from 1960-1990.
Many of the photos are of the CBD as it used to be, and as I remember it from frequent childhood trips to the eye specialist.  I was reminded of the most memorable of these by a photo of the Myer Footbridge, built in the same year that we arrived in Australia.  Late in the afternoon my mother dashed into Myer for something, leaving me at the Lonsdale St Store entrance with strict instructions not to move. Well, she was in a right old panic by the time we were reunited nearly an hour later.  This was our first trip into the city, and she didn't know that Myer consisted of two buildings, and she had unwittingly crossed over into the Bourke St Store via that footbridge.  And no, the store was closing and they wouldn't let her back in, to locate me waiting not-so-patiently two blocks away outside the other entrance!
Photos of Collins Street in 1964 feature women dressed in purple — in mini-skirts and more sober attire — the colour of the emerging women's movement.  This was a trigger for me to revisit Jenny Joseph's popular poem, from 1961, 'Warning', which starts like this:
When I am old I shall wear purple
With a red hat which doesn't go, and doesn't suit me.
And I shall spend my pension on brandy and summer gloves
And satin sandals, and say we've no money for butter.
I shall sit down on the pavement when I'm tired
And gobble up samples in shops and press alarm bells
And run my stick along the public railings
And make up for the sobriety of my youth.
I like the striking skyline of contemporary Melbourne but it's hard not to feel nostalgic about some of the lovely buildings that were demolished in 60s and 70s, not always replaced by architectural marvels.  One of the most awful was the Southern Cross Hotel, said (as if the Windsor didn't exist) to be Melbourne's first 'international' hotel where famous celebrities like the Beatles stayed.  It replaced the Eastern Market, built in 1847, and was just a horrible box, itself demolished in 2003.
As Macheras writes…
It is widely accepted by Melburnians that the demolition of the Federal Coffee Palace in 1973 was one of the most devastating losses to our city.  This grand structure was one of the few surviving reminders of Marvellous Melbourne during the Victorian boom era. (p. 30)
You can see the exterior of the building at Wikipedia, but the book has a wonderful colour photo of the interior.
It's interesting to see the buildings that were scheduled for demolition, but were reprieved thanks to stalwart efforts by grass-roots efforts by heritage associations.
I was a bit taken aback by the double page spread about US President Lyndon Johnson's visit to Melbourne in 1966, with an annotation that mentions only the thousands of Melburnians who gathered with enormous enthusiasm for his farewell.  It is true that thousands turned out because there was at that time widespread public support for the Vietnam War.  But this visit was also accompanied by significant demonstrations against LBJ in Melbourne and Sydney, including in Carlton (according to Green Left Melbourne,) a paint-throwing incident which made headlines in the US, including page three in Time magazine. It was a spectacular 'incident' and a harbinger of the anti-war movement that succeeded in ending Australia's participation in the war just six years later in 1972. That there is no mention of this shows us that an attractive photographic history can be deceptively selective about the history it presents.
The photos aren't just about the CBD with its grand buildings and stunning arcades.  This was the era of suburban Shopping Mall, and there are photos of Northland, Chaddy, Eastland, Doncaster and Southland in their 1960s incarnations. Highpoint, Boronia, and The Glen came later in the 1970s.  There are also photos of strip shopping centres in Northcote, St Kilda, Richmond and Fitzroy, and a shot of the shops at Anglesea that was a regular part of my weekends during the Surf Life Saving season in summer.
There's even a shot of the Prahran Coles Variety Store in 1970 where I had my first part-time job on Saturday mornings, earning the grand sum of $1.75 for three hours work (and woe betide us if the till didn't tally because we had to stay behind after closing time at noon to find that missing cent.)
More sobering is the photo of the West Gate Bridge collapse in 1970 when 35 construction workers were killed.  I saw it shortly afterwards from across the river at the old ferry crossing carpark where I was having my driving lesson.
Observant readers will also note the absence of graffiti (which now, alas, has tacit approval) and the prevalence of cigarette advertising, (which is now illegal).
This book would be invaluable for elderly people and people with dementia.  People with gaps in memory of the recent past often benefit from books like this, which relate specifically to their past experiences from long ago..  I used old photos on an iPad with my father, to start conversations about the places he'd lived and worked in.  Old Vintage Melbourne would have been perfect as a conversation starter to use in the same way.  Every aged care home in Melbourne needs a copy…
You can find out more about Old Vintage Melbourne at Instagram.
The book is also reviewed at Carpe Librum.
Author: Chris Macheras
Title: Old Vintage Melbourne, 1960-1990
Cover design by Laura Thomas; cover photo courtesy of National Archives of Australia; back cover photo by Marc Strizic, courtesy State Library of Victoria
Publisher: Scribe Publications, 2022
ISBN:  9781922585691, hbk., 160pp
Available from Scribe and all good bookstores.